Brian Donnelly, professionally known as KAWS, is an American artist, sculptor, painter, and designer. A major chunk of his art is inspired by characters from popular TV shows. These include Mickey Mouse, Spongebob Squarepants, Smurfs, Michelin Man, Snoopy, and most famously, The Simpsons – although you'll see characters of his own making in his art as well.
Starting in the early 1990s and displayed proudly on the NYC billboards, KAWS' art has created ripples in fashion, art, music, and pop culture industries.
KAWS' Impact on Pop Culture
KAWS' work in many examples is inspired by popular TV shows – household names like Mickey Mouse, Family Guy, The Simpsons, and SpongeBob SquarePants – but with an addition of zeitgeists past and present.
His recreations of these well-known motifs have their hands over their faces and crosses for eyes – a somewhat dark symbolism. This makes his designs familiar enough to blend right into modern culture, but unique enough to stand out in the midst of it.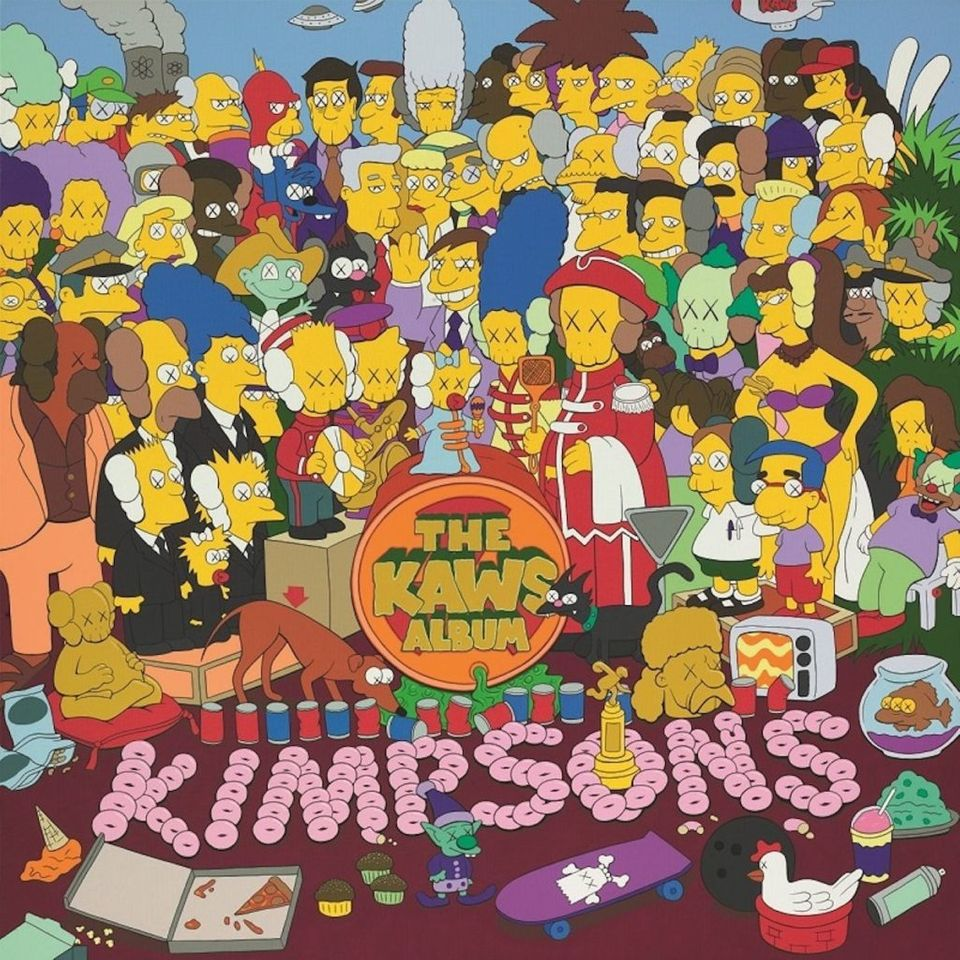 The most famous of his artwork is a recreation of The Simpsons, that he titled The Kimpsons. His sculpture titled The Companion, a zeitgeist-esque recreation of the Mickey Mouse was used for the Macy's Thanksgiving Day Parade and the design was later on seen in festivities worldwide – in Switzerland, Hong Kong, Malaga, China, and the United Kingdom.
KAWS' Impact on Fashion
KAWS has designed for notable brands in the fashion industry. This includes footwear like Nike's Air Force 1 trainers, a capsule collection for Jordan, and four sneakers for Air Jordan. KAWS also launched a line of graphic T-shirts with Uniqlo, and in collaboration with Sesame Street.
Other fashion brands that have been known to associate with KAWS are Dior – who heavily featured the artist in its 2019 collections – Bathing Ap, Undercover, and Vans. KAWS also designed the artwork for the Comme des Garcon and Pharrell William's perfume, Girl in 2014.
KAWS' Impact on Music
KAWS's designs have found themselves on the album covers of music artists all through the early 2000s – Towa Tei, Cheri, Clipse, Kanye's 808s & Heartbreak. He also designed guitar picks for John Mayer.
In 2013, the infamous MTV Moonman trophy was given the shape of KAWS' Mickey Mouse recreation – The Companion. A 3D model of the same art piece was also used to create a 60-foot tall inflatable balloon.
KAWS' Impact on Art
In the 1990s, when most graffiti art was found under bridges or in back alleys of NYC, KAWS' designs were boldly defacing advertisements on subway signs and billboards. This visibility was an inspiration to many artists that came after him and it was also what jump-started his career by landing him his first gig – a figurine collection with Bounty Hunter, a Japanese clothing company.
KAWS also appeared on the Work of Art: The Next Great Artist as a judge for the 2011 finale. Jersey City to this date considers KAWS one of its most celebrated artists, his faded graffiti still visible on the walls of factories across KAWS' high school.
Looking to explore more art genres? Head over to Joe Latimer.com for a multidisciplinary, visually stunning experience. ☮️❤️🎨
Enjoy this blog? Please help spread the word via: