Francis Bacon was an Irish-born figurative painter at 63 Baggot Street, Dublin in 1909. Bacon was known for his raw, unsettling imagery that consisted of fleshy, screaming, contorted figures: from popes and art-historical subjects to friends and lovers. He is credited for creating some of the most "satanically influential" paintings of the 20th century.
In this article, you'll find out almost everything you need to know about Francis Bacon.
Francis Bacon's Most Prominent Art
Some of Bacon's most famous works are the triptych paintings titled Crucifixion. Heavily influenced by Surrealism, the first Crucifixion painting in 1933 launched Bacon's career as a talented painter. The first Crucifixion painting features a dark, mysterious color palette of black and grey to reflect human sorrow and self-destruction. The second triptych in the series, released in 1944, features extremely bright colors to depict the ambiguous nature of human suffering.
I don't think people are born artists; I think it comes from a mixture of your surroundings, the people you meet, and luck.

–Francis Bacon
The Crucifixion paintings established Bacon's signature art style which then dominated the rest of his career as a painter. Crucifixion holds the reputation of being one of the very few art pieces of the time that survived his auto-censorship. Over the years, Bacon's famous triptychs still retain their original impact, being one of the greatest Surrealist works of all time.
My painting is not violent; its life that is violent. My painting is a representation of life, my own life above all, which has been very difficult. So perhaps my painting is very violent, but this is natural to me.

–Francis Bacon
Francis Bacon's Impact on Art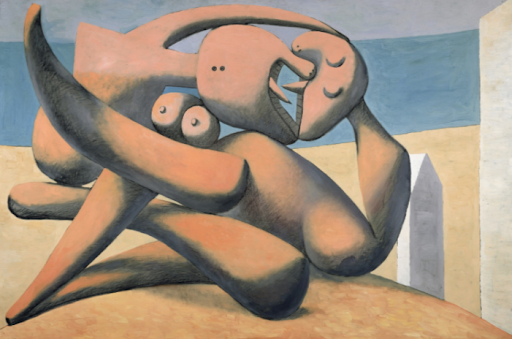 After World War II, Francis Bacon played a huge role in shifting the landscape of art. His work reflected raw emotions like anger, pain, and fear. He established himself as a famous post-war painter by using graphic imagery like blood, biomorphs, and raw meat – unlike any other painter of his time. In a period where many people lost their faith in art, Bacon revived the importance of the medium.
Flesh and meat are life! If I paint red meat as I paint bodies it is just because I find it very beautiful.
Ham, pigs, tongues, sides of beef seen in the butcher's window, all that death, I find it very beautiful. And it's all for sale—how unbelievably surrealistic!

–Francis Bacon
Francis believed that art could impact societies in unimaginable ways and he aimed to do exactly that through his pieces. Through his paintings, he tried to awaken the deepest, darkest secrets within the human soul to ultimately present more positive versions of ourselves in society. His work tears down all the veils of existence and encourages others to try and do the same.
If you really love life you're constantly walking in the shadow of death.

–Francis Bacon
Francis Bacon's Impact on Culture
Francis Bacon's work was extremely self-reflective, which heavily influenced all other forms of art during the post World War II era. The artist has a studio named after him which is full of his creative works open for viewing. Every item in the studio is entered into a database that holds every single piece of information there is to know about the work.
The creative process is a cocktail of instinct, skill, culture, and a highly creative feverishness. It is not like a drug; it is a particular state when everything happens very quickly, a mixture of consciousness and unconsciousness, of fear and pleasure; it's a little like making love, the physical act of love.

–Francis Bacon
The database includes hundreds of books, photographs, canvases, and other items that have remained in Bacon's possession and have influenced his life. Art enthusiasts from all over the world visit the Francis Bacon Studio in Dublin to seek inspiration from the artist's life. Several documentaries and short series have also been made on the revolutionary life and art of Bacon, allowing everyone to know how he influenced global cultures.
The job of the artist is always to deepen the mystery.

–Francis Bacon
Francis Bacon's Impact On Music
Not only was Bacon an influential artist, but his work was also extremely interdisciplinary. The earliest impact of his art on music was when the British Composer Mark-Anthony Turnage went to one of his exhibits in 1985 and viewed Bacon's Screaming Pope Triptych. Inspired by what he saw, Turnage composed his famous piece Three Screaming Popes with which he wanted to create the same feeling that Bacon's work had evoked in him. Listen here
I don't emphasize death. I accept it as part of one's existence. One is always aware of mortality in life, even in a rose that blooms and then dies.

–Francis Bacon
The work is an attempt to convert Bacon's art themes into sound. Turnage's later works have also been heavily inspired by the artist's imagery. The fact that Turnage has been one of the greatest composers this world has ever seen proves that Bacon's impact on music has been immense – even in modern times.
Francis Bacon's Impact on Literature
Francis Bacon's art wasn't isolated from society. Instead of using painting as a form of escapism, he used his work to provide social commentary in an extremely unique way. The ideas of Nietzsche, Eliot, and Conrad tried to portray their literary concepts through his paintings. The artist had a grand inventory of books, most of which are now part of his memorial studio, showing exactly how much Bacon valued literature as a source of inspiration.
Bacon closely worked with some of history's greatest artists like David Sylvestor with whom he created an illustrated publication. His paintings are brilliant visualizations of the literature produced in the 18th century and are still studied by modern-day literary analysts.
Looking to explore more art genres? Head over to Joe Latimer.com for a multidisciplinary, visually stunning experience. ☮️❤️🎨
Enjoy this blog? Please help spread the word via: