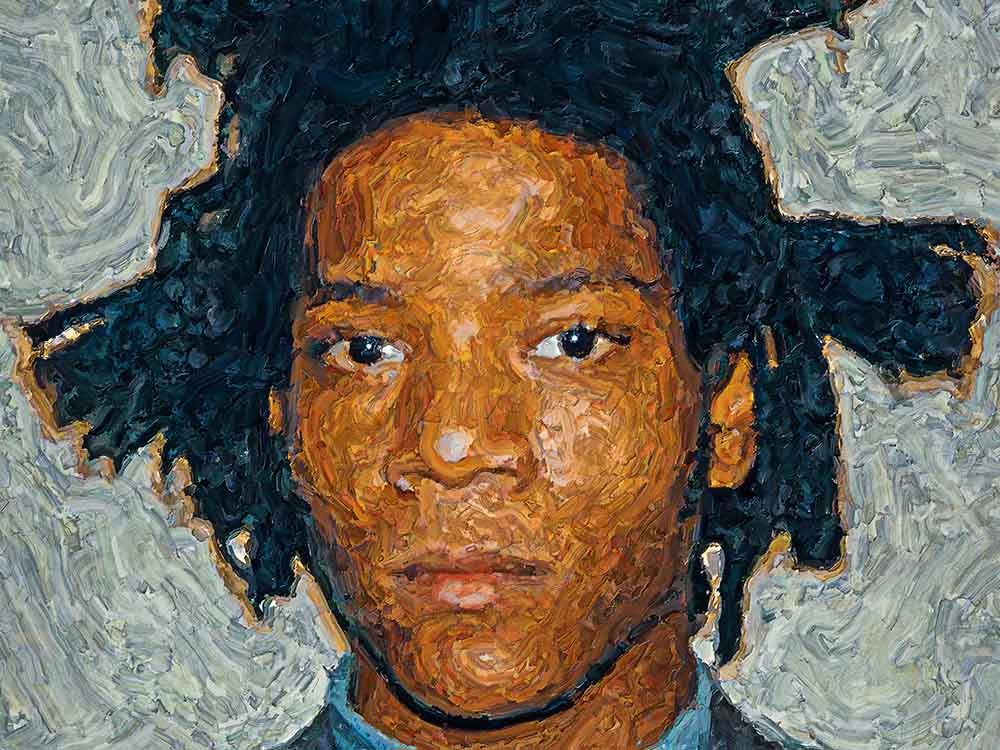 Known to be one of the world's greatest contemporary graffiti artists, Jean Michel Basquiat was a key figure in the neo-expressionist artistic movement. Born in Brooklyn in 1960, Basquiat became a member of the Brooklyn Museum when he was just six years old. Basquiat ended up dropping out of high school to pursue art when he was 17 years old. He started designing sweatshirts and selling postcards to get by. Being entirely self-taught, the artist used all kinds of media, such as acrylics, oil paint, spray paint, and collage work to create his masterpieces.
I am not a black artist, I am an artist.

—Jean-Michel Basquiat
Impact on the World
Basquiat emerged as a cultural icon as he grew from an underground graffiti artist to an internationally acclaimed Neo-Expressionist right in the early days of his career. Without any formal art training, Basquiat managed to provide commentary on the state of the world using his work. Colonialism and social injustice were prominent themes in Basquiat's art and the figures he painted were often black, overlaid with an outline in white to depict racism. The artist also collaborated with legends like Andy Warhol and Francesco Clemente mid-way through his career, helping his work attain a high value.
My basic influence had probably been Peter Max.

—Jean-Michel Basquiat
For a while, I was drawing on good paper, but now I've gone back to the bad stuff. I put matte medium on it. If you put matte medium on it, it seals up, so it doesn't really matter.

—Jean-Michel Basquiat
Impact on the Art
Basquiat popularized the term Neo-Expressionist within the art world. Neo-Expressionism is an art form that's defined by the rough handling of material, which is exactly how Basquiat liked to create his work. Taking inspiration from his rich cultural background, the artist used mixed media and even combined poetry, drawing, and painting together to create intricate works to critique prevailing social structures. Basquiat's work inspired a whole new generation of artists to approach art with sensitivity and use it as a tool to bring attention to subjects of importance rather than just creating something that looks beautiful.
I want to make paintings that look as if they were made by a child.

—Jean-Michel Basquiat
Impact on Fashion
Basquiat himself was a passionate fashion enthusiast and was heavily inspired by contemporary fashion trends. The artist is known to have painted some of his greatest works in Armani Suits. Labels such as Comme des Garcons have been known to use entire Basquiat pieces on some of their clothing to pay homage to the artist's unique expression. The artist also walked in runway shows for brands like Issey Miyake in the 80s. Since his passing, brands like Coach, Doc Martens, and WACKO have been known to use his pieces as part of their designs.
I don't listen to what art critics say. I don't know anybody who needs a critic to find out what art is.

—Jean-Michel Basquiat
I don't think about art when I'm working. I try to think about life.

—Jean-Michel Basquiat
Impact on Music & Culture
Because Basquiat started his career on the streets, he is a monumental figure in the world of underground hip-hop. Basquiat's work was initially a subversive and radical act of vandalism to bring attention to racial injustice. Early graffiti artists such as Basquiat played an important role in the popularization of hip-hop culture, bridging the gap between what was considered to be low art with high art as the artist forged a space for himself within the commercial art scene. Not just that, but the importance Basquiat gave to words in his work along with the repetition and patterns that he used to create art has an uncanny similarity with the layered rhythms and patterns within hip-hop music, showing how the two influenced one another back in the 80s.
The black person is the protagonist in most of my paintings. I realized that I didn't see many paintings with black people in them.

—Jean-Michel Basquiat
Impact on Film
In addition to being one of the greatest artists of all time, Basquiat also pursued a brief career as an actor when he starred in films such as 'Downtown 81' and 'Blondie: Rapture'. However, not only did the artist star in films, but he has also inspired several films with the incredible life he lived. In 1996, the film 'Basquiat' was released a decade after his death, showing the racism that the artist had to endure in the art world along with the drug habit that eventually ended up killing him. Since then, tons of documentaries and films have been released, showcasing the genius of Jean Michel Basquiat and his contributions to the New York art scene in the 80s.
Impact on the Industry
There has been a sudden controversy involving a recent opening at the Orlando Museum of Art's show Heroes & Monsters: Jean-Michel Basquiat, The Thaddeus Mumford, Jr. Venice Collection. The Times Brett Sokol published a report raising questions about the legitimacy of 25 Basquiat works displayed in the assemblage. You can read OMoA's response to the claim here. It will be interesting to see how this plays out. I'm curious to hear others' opinions on this situation, so please leave any thoughts on the matter below.
Looking to explore more art genres? Head over to JoeLatimer.com for a multidisciplinary, visually stunning experience. ☮️❤️🎨
Enjoy this blog? Please help spread the word via: