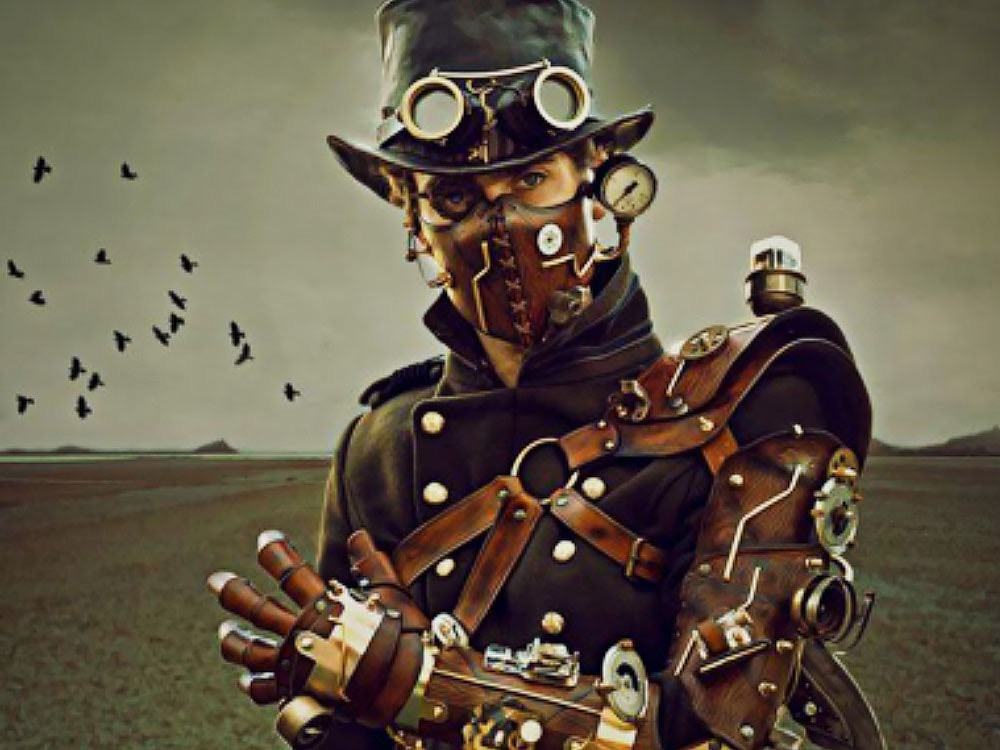 What Is Steampunk?
By definition, Steampunk is a subgenre of science fantasy or science fiction that uses aesthetic design and technology inspired by 19th-century steam-powered machinery. Steampunk began as a literary movement in the 1900s, but has now extended its mechanical wings to include fashion, art, design, music, and pop culture.
Steampunk usually makes use of a historical setting and visual storytelling. In order to grasp the idea behind it, just take a trip back to England in the Victorian Era, or America in the Wild West era. Think Sherlock Holmes, steam-powered engines and ornate fashion. Now, continue using your vivid imagination. Pretend the technology and fashion from those eras are still in vogue. Plastic has not yet been invented. Steam has not been replaced by electricity. People still wear outfits consisting of brass pocket watches, waistcoats, and bowler hats. What would this world look like? What would this alternative history be? Voilà! You've been transported to the retro-future world of Steampunk.
Steampunk in Fashion
At its core, Steampunk fashion is based on the Victorian style aesthetic and highly influenced by Steampunk Fiction. It's often designed with a post-apocalyptic perspective. Steampunk costumes are usually bought from thrift stores, or handmade at home. It's also common to see Steampunk outfits from websites that specialize in Steampunk Fashion. Everything from makeup, hairstyling, jewelry, headwear, and clothing is incorporated into Steampunk Fashion. Outfits are usually made cohesive with the use of one prominent accessory like a mechanical gadget, top hats, parasols, or goggles. The colors used are toned down and neutral.
Steampunk in Art and Design
Similarly to the Arts and Craft Movement, Steampunk art and design presents a balance between form and function. Steampunk art is not just for aesthetics. In fact, it is the inspiration behind many modern gadgets and machines. For example, a functional Computer Mouse with a sparse frame of wood, copper, and orange LED light. There are also some high-end Coffee Machines that make use of the Steampunk style in their design.
In 1994, the Paris Metro station at Arts et Métiers was redesigned to a Steampunk style to honor the works of Jules Verne, by Belgian artist Francois Schuiten.
Steampunk in Literature
Literature is the bedrock of the Steampunk movement. It's where the whole art of Steampunk emerged from. This is generally fiction that takes you back to the times when steam power was the primary source of energy. Since much of the early Steampunk fiction was set in Victorian England, there's a significant amount of Victorian influence in the whole movement. Some of the most potent literature in the English language is based on Steampunk – from Leviathan by Scott Westerfeld to The Anubis Gates by Tim Powers and Perdido Street Station by China Miéville.
Here's a list detailing some of the most popular Steampunk fictional novels.
Steampunk in Pop Culture
Be it literature, movies, music or video games – Steampunk has had a strong hold over Pop Culture for decades. Some of the most popular movies we've watched growing up contained Steampunk elements. For example, the design of the submarine Nautilus in Walt Disney's 20,000 Leagues Under the Sea (1954) was highly influenced by the Steampunk movement. The Time Machine in George Pal's The Time Machine (1960) is another example of Steampunk design.
There's a wide range of musical influences that collide with Steampunk. Folk rock, industrial dance, straightforward punk, and dark cabaret are all genres that take inspiration from Steampunk. The music video, The Ballad of Mona Lisa, by Panic! at the Disco presents a unique Victorian Steampunk theme. Another music video; Turn Me On, by David Guetta ft. Nicki Minaj presents a whole Steampunk setting.
There's a whole genre of Steampunk video games. The Eidolon, which came out in 1985, is often considered the first Steampunk video game. Here's a comprehensive list of all Steampunk video games from '85 to present day.
Due to the growing popularity of Steampunk, a subculture of adults have emerged that want to adopt Steampunk as a lifestyle. They come together as a like minded community, sharing the same passion of the genre. Many gather at conventions to associate with music, film, home décor, fashion, art, and design that is Steampunk inspired.
Looking to explore other genres of art? Head over to JoeLatimer.com for a multidisciplinary, visually stunning experience.⚙🎨😁
Enjoy this blog? Please spread the word via Instagram, Facebook, Twitter.