Recently I took a trip to view the Salvador Dali Museum in St. Petersburg, Florida. Before you even make it inside the museum you will find yourself in awe of the unconventional exterior. Only a building this unique could house the work of such a talent as Salvador Dali. Designed by architect Yann Weymouth of HOK, it seems like a glass bubble made of triangles is swallowing a concrete slab known as "The Enigma".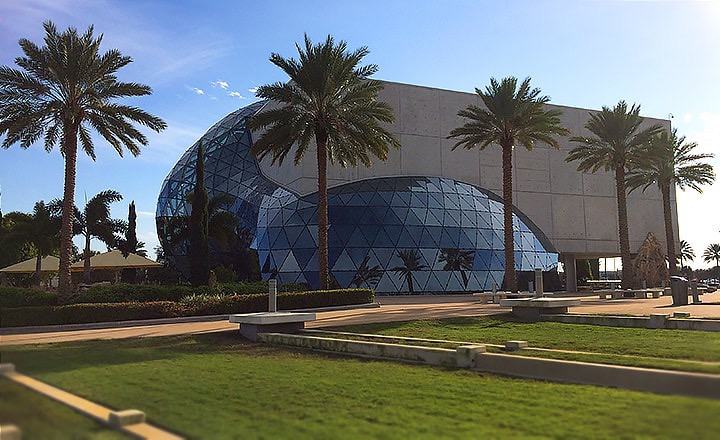 Once inside you'll immediately find another unique feature of the construction, which is a spiral helical staircase that resembles a DNA molecule. On the ground floor there is also a theatre, gift shop, bookstore, and cafe. First things first, you'll want to make a pit stop at Café Gala for a café con leche (coffee with milk) to fuel your fine art frenzy. The eats and drinks offered there are on par with any cafe I've visited in Spain. I recommend the Pressed Serranitas, it's a roasted pork sandwich, with Serrano Ham, Manchego Cheese, Tomato, and Pimenton Aioli. You can even get a Mahou (Spain beer) though, I have to be honest I'm not that big a fan of Mahou. This beer is on every street corner in Spain and sometimes convenience trumps quality. I'd give it a 2.5 out of 5.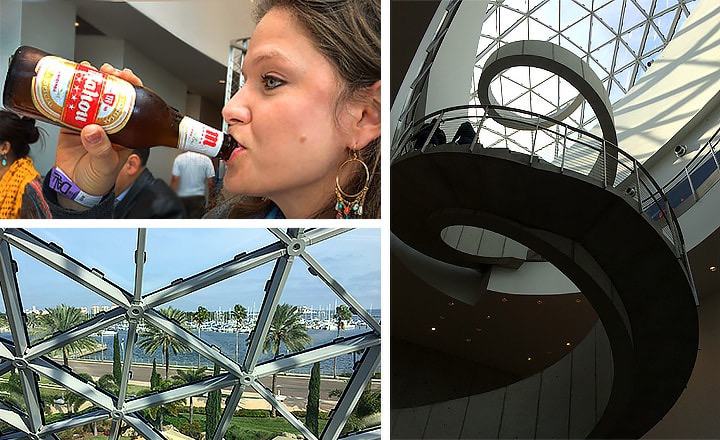 Now that you're all fired up, stop and grab a free audio guide and begin viewing the largest collection of Dali artwork on the planet. As if this were not enough, this particular exhibition features the once in a lifetime opportunity to view the combined collections of the legendary Dali and Picasso together for the first time. It features loaned works from more than 20 international art museums and private collections worldwide, for a chance to see 92 works throughout the careers of these two giants of the art world side by side.
The showing highlights a visual story of influence, rivalry, and artistic greatness that forever changed the way art is made and viewed. I've always been completely inspired by Dali and the surrealism movement. His impact may be seen in many of my own personal works. In particular, images such as T-Wrecks and Thoroughfare of Ascension. Seeing Salvador Dali's artwork in person rather than in books or prints truly allows you to experience the richness of each painting, the vividness of the colors, and his remarkable painting technique. The shocking quality of his imagination and creativity is bound to leave a lasting impression on any observer.
There's never been an exhibit like this ever before. It took roughly 5 years for this assembly of art to come together and it is unlikely to ever happen again. Be sure to take a peek at the waterfront Avant-garden for some tranquil time. Here you'll find a labyrinth, the mathematical garden itself, and a Dali Wish Tree. If anything it's a great spot for a touristy photo with a larger than life Dali signature mustache. The Dali Museum is a world-class art institution on any day of the week, but you'll definitely want to check out this exceptional collaboration Nov. 8, 2014 through Feb. 22, 2015.
Looking to explore more art genres? Head over to JoeLatimer.com for a multidisciplinary, visually stunning experience. ☮️❤️🎨