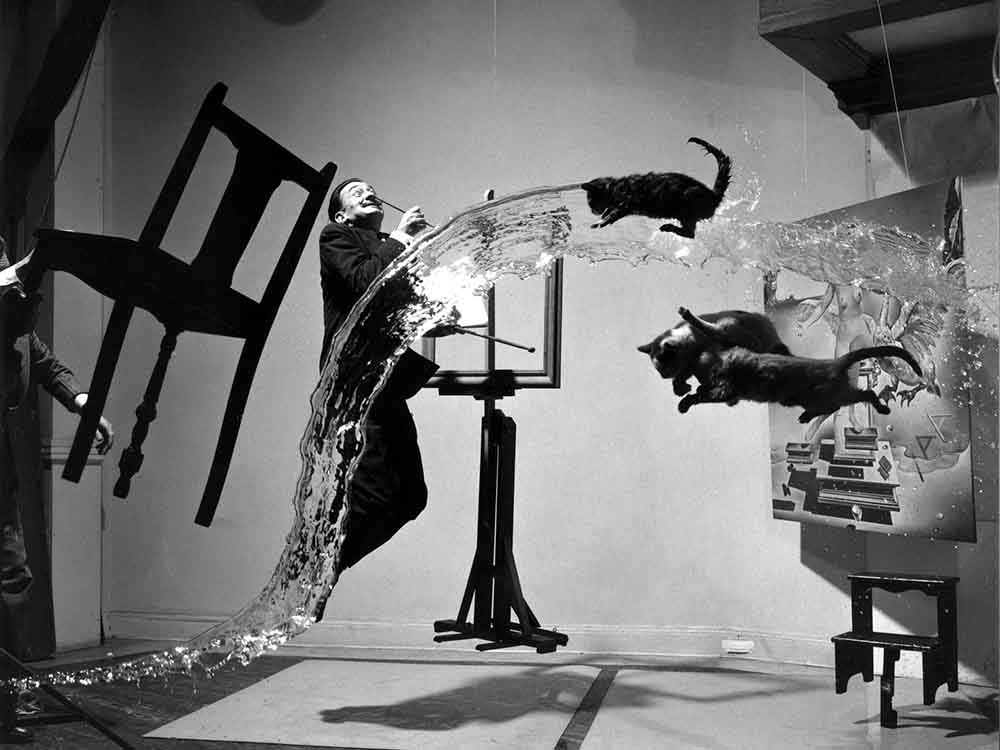 Salvador Felipe Jacinto Dalí y Domenech, usually referred to as Salvador Dali, was a Spanish Surrealist artist known for his exploration of subconscious imagery. During the 1920s, Dali was considered the world's best-known Surrealist artist. He portrayed his subjects in meticulous detail, often placing them in contrast with sunlit landscapes. Salvador Dali is most famous for crafting The Persistence of Memory (1931) – but his influence extended to many other realms of the art world.
In this article, you'll receive a round-up of everything you need to know about Salvador Dali.
Salvador Dali's Impact on Theatre
Salvador Dali had an extensive and successful career. During his lifetime, he had the opportunity to work with some of the biggest names in the theatre industry.
Alfred Hitchcock himself had sought Dali out for the "sharpness" of his designs: something that he needed for the Dream Sequence of the 1945 Thriller: SpellBound. Walt Disney's 2003 short film titled Destino was actually produced and created by Salvador Dali and Walt Disney in 1945. Dali had painted 22 oil paintings for the film while Disney's legendary designer, John Hench, had created the storyboards.
In the early 1920s, back when he was still residing in France, Dali designed sceneries for French plays and ballets the likes of Federico Garcia Lorca (1927), Bacchanale (1939), Labyrinth (1942), The Three-Cornered Hat (1949) and the Cafe of Chinitas (1944).
Those who do not want to imitate anything, produce nothing.

Salvador Dali
Salvador Dali's Impact on Pop Culture
What do Lady Gaga, John Lennon, Elvis Presley, and Andy Warhol have in common? They all have derived in one way or another, artistic expressions from the works of Salvador Dali.
References of Dali's infamous melting clock painting – The Persistence of Memory – pop up on just about everything: from The Simpsons to the latest political scandals. Heck, some even argue that the mustache you see on mugs and Halloween costumes is actually Salvador Dali's.
Whether you personally like it or not – Dali's work has definitely created ripples in Pop Culture.
Salvador Dali's Impact on Fashion
Dali's eccentric surrealism found its way into the fashion industry by the 1930s as well. He designed theatrical pieces and costumes for Coco Chanel, Christian Dior, and Schiaparelli.
By the 1930s he had started designing jewelry for women, the most famous of which is The Eye of Time (1949); an ode to his piece The Persistence of Memory and Rubi's Lips. Around the same time, he started treading into the world of interior designing as well, collaborating with the famous Jean-Michel Frank to produce masterpieces like Lamp Stand with Crutches, Lobster Telephone, and more.
Intelligence without ambition is a bird without wings.

Salvador Dali
He continues to influence fashion in the 21st century as well. In fact, most of Lady Gaga's flamboyant looks – the Rhino Horns Look, the Spider Piano Performance, the controversial-but-iconic Meat Dress – can all be traced back to Dali.
Salvador Dali's Impact on Art
Salvador Dali spent most of his early life immersed in the fine arts, particularly Impressionism, Renaissance Art, Cubism, and various Avant Grande movements – with an unorthodox mix of Freudian psychology. The 1920s saw his shift towards Surrealism, which was what he eventually became world-renowned for. By the 1940s, he announced a change of faith: a reversion to Catholicism but heavily influenced by traits from the philosophies of mysticism, classicism, and rationalism.
With that in mind, it's easy to see the pattern to his repertoire: an unorthodox, surrealistic, often eccentric, expression of religion, sexuality, the subconscious, and interpersonal relationships. A co-existence of anarchy and monarchy, both, within a singular body.
Dali's most famous work is The Persistence Of Memory – occasionally also referred to as "The Soft Watches", "The Melting Clock" or "The Melting Watches" – striking imagery of the relativity of time and space and our notions of structure.
Another juxtaposition of two contrasting worlds can be found in The Metamorphosis of Narcissus – a work that interprets the Greek mythology of Narcissus through the Surrealistic technique known as Paranoia-Critical Method.
His depictions of Mary and Jesus in The Madonna of Port Lligat had rectangular gaps in their chests – a reflection of their transcendence – against a backdrop of surreal symbols of shells, nails, fish, and eggs.
Salvador Dali had once told King Juan Carlos in 1981, "I have always been an anarchist and a monarchist." And perhaps no other statement can describe Salvador Dali better.
Demanding more Dali? Check out this blog about my visit to the Salvador Dali Museum in St. Petersburg, Florida
Looking to explore more art genres? Head over to Joe Latimer.com for a multidisciplinary, visually stunning experience. ☮️❤️🎨
Enjoy this blog? Please help spread the word via: